Easiest Way to Make Appetizing My Vision of a Hotdog and Its Taste
My Vision of a Hotdog and Its Taste.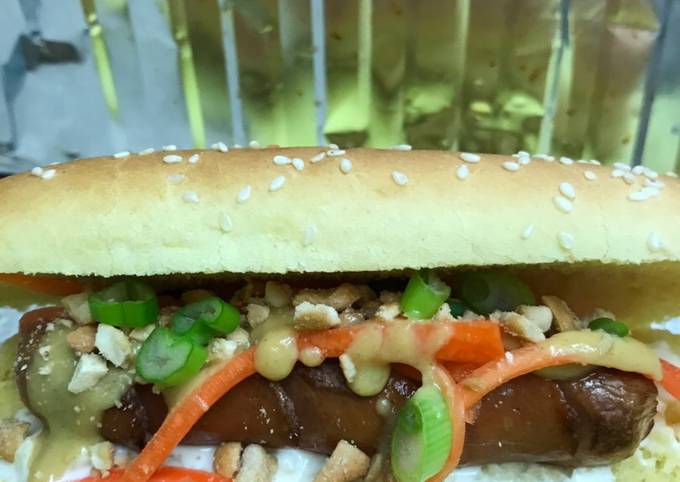 About Hot Dog
A hot dog (frankfurter, frank, wiener, weenie) is a type of sausage that is cooked or smoked and has a smoother texture and a softer, moister taste than most sausages. Hot dogs are often eaten by hand (fingerfood), especially in the United States, and are usually eaten with a bun that is shaped like a sausage, sometimes with seasonings and toppings. Sandwiches formed from this combination are also known as hot dogs.
My Vision of a Hotdog and Its Taste
You can have My Vision of a Hotdog and Its Taste using 10 ingredients and 7 steps. Here is how you achieve that.
Ingredients of My Vision of a Hotdog and Its Taste
You need 12 of hotdogs (for my neighbors too).
Prepare 12 of hotdog buns.
Prepare 1 cup of mayonnaise.
Prepare 1/3 cup of Dijon mustard.
It's 1 TBSP of honey.
Prepare 1 TSP of vinegar.
Prepare 3 stalks of green onion chopped.
It's 1 of medium shredded and pickled carrot (recipe at Tuna Salad Sandwich à la Vietnamese).
It's 1/4 of of a sweet pineapple.
Prepare 2.5 oz of unsalted and roasted cashews.
My Vision of a Hotdog and Its Taste step by step
I tasted the hotdogs yesterday when I made the Omerice. It was little too salty. So, I used a toothpick to make holes in the hotdogs and boiled for 4 minutes. Drained for 1 hour..
After an hour, I made cuts on two sides of the hotdogs. One side cuts are opposite of the other..
Chop pineapples. If it is not sweet, sprinkle some sugar and set aside for 15 minutes. After 15 minutes, squeeze the extra liquid. Put in a bowl, add mayonnaise. Mix well..
In a bowl, put mustard, honey and vinegar. Mix well. Crush the cashews using knife or mortar and pestle. Below is a picture of the ingredients I put in my hotdogs..
Grill the hotdog buns. I used a skillet with ridges for the buns..
On a pan on medium heat, heat up the hotdogs..
On a hotdog bun, spread some pineapple mayonnaise, add hotdog, some pickled carrots, drizzle the mustard, sprinkle some crushed cashews and some green onion. Done..