Easy Way to Make Tasty Taco Frito Casserole
Taco Frito Casserole.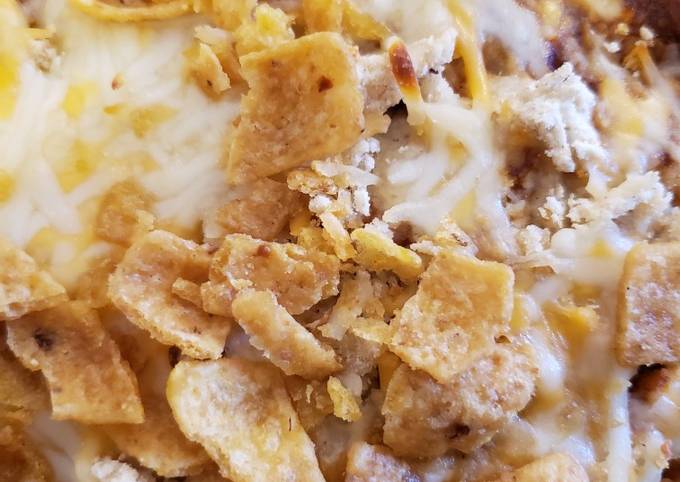 About Tacos
Tacos are a typical Mexican food consisting of rolls or folds of tortilla filled with various dishes inside. One version of the taco is found in the Tex-Mex specialty, namely the Breakfast Taco, which consists of an omelet and a combination of potatoes, sausage and/or bacon (bacon). This one food is so famous in the United States, and is a snack that is loved by all people. In 2018, Americans ate more than 4.5 billion tacos. Whereas, prior to the 1950s, tacos didn't really exist in the US.
Taco Frito Casserole
You can have Taco Frito Casserole using 15 ingredients and 6 steps. Here is how you achieve it.
Ingredients of Taco Frito Casserole
Prepare 1 Pound of Ground Beef.
Prepare 1-2 Tablespoons of Oil.
It's 1/2 of Onion.
Prepare 1 of Garlic.
You need 1/3 of Taco Packet or more based on preference.
You need 1/3 Cup of Water.
It's 1/2 Can of Rotel (10 oz can) add more or less.
It's 1 Can of Red Enchilada Sauce.
You need 1 Cup of Masa Prepared According to Package.
You need 1 Can of Refried Beans.
You need 1 Cup of Rice.
Prepare 2 Cups of Shredded Cheese.
It's 2 Cups of Fritos.
It's 2 of Flour Tortillas.
You need of Garnish with lettuce, sour cream, and salsa.
Taco Frito Casserole step by step
Add oil to frying pan. Saute onions and garlic..
Add ground beef and taco packet seasoning with water. Simmer for 10 minutes until ground beef is cooked thoroughly. Add refried beans and Rotel. Stir..
Prepare Masa according to mixture on package. Line bottom of 8x8 glass baking dish with 3/4 of Masa. Bake 350 degrees for 10 minutes to pre cook crust layer. Remove crust from oven..
Begin layering casserole. First, create a layer with meat bean mixture, pour ⅓ of the Red Enchilada sauce over meat mixture. Sprinkle ⅓ cup of rice. Sprinkle shredded cheese. Sprinkle with ½ cup of Fritos. Layer with 1 flour tortilla and repeat layer pattern twice. Top with remaining Masa, cheese and Fritos..
Cover with foil and bake at 350 degrees for 30 minutes. Uncover and bake for another 5 to 10 minutes..
Serve with lettuce, olives, salsa, sour cream, and additional Fritos..